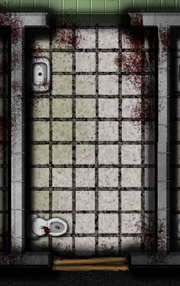 The Cell is a section of the Asylum map in SAS: Zombie Assault 2 Insane Asylum, and can be reached via the South Cells. It can be unlocked for $600. The M1014 can be found and bought here. This area includes one Barricade section.
Tips
Beware: Upon opening this room, a horde of Zombies will chase out after you, along with a Boss. Be prepared to whip out something like the MP5 or a rifle to dispatch them. Even with the MP5 you will have to retreat to the starting room or Cafeteria (if you unlocked it).
Ad blocker interference detected!
Wikia is a free-to-use site that makes money from advertising. We have a modified experience for viewers using ad blockers

Wikia is not accessible if you've made further modifications. Remove the custom ad blocker rule(s) and the page will load as expected.