The first Expansion Pack for SAS: Zombie Assault 4 was released on 11 December 2014. The expansion pack included 2 new classes of weapons—Lasers and Blade Throwers. In addition, the pack included 20 new weapons for the Rubicon, Critical Mass, Smokestack, HIKS, Teknoboom, Rancor, Ronson, and Shotlite industries. Additionally, there are 4 new armor sets- the Rubicon Hardplate, HVM Carbon Fibre, Atomic Medusa, and Shotlite Dragonfly series. All new weapons and armor come with their
counterparts.
Known Weapons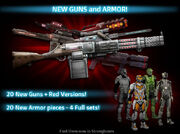 Known Armor Sets
Ad blocker interference detected!
Wikia is a free-to-use site that makes money from advertising. We have a modified experience for viewers using ad blockers

Wikia is not accessible if you've made further modifications. Remove the custom ad blocker rule(s) and the page will load as expected.