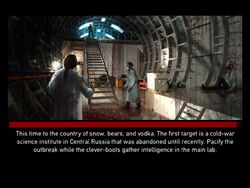 The Institute is the first downloadable map in the Russian region for SAS: Zombie Assault 3 on mobile devices. The map is based in a Russian Institute of unspecified nature; it has a circular central area and surrounding rooms and corridors. This area can be accessed after completing at least one map in the North American region and reaching Rank 15.
Difficulty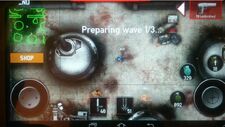 As zombies can spawn from areas within the Institute as well as around the outside, and due to the numbers of zombies, the Institute is a challenging zone in which to play. Burrowers, butchers and shadows are more frequent in this map so it is best to use the most high powered weapon and to have plenty of cryo grenades since if the zombies do not kill the player the shadows will including the burrowers which can make holding off certain areas nearly impossible.
Ad blocker interference detected!
Wikia is a free-to-use site that makes money from advertising. We have a modified experience for viewers using ad blockers

Wikia is not accessible if you've made further modifications. Remove the custom ad blocker rule(s) and the page will load as expected.