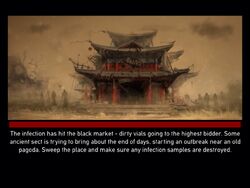 Pagoda
is the second map for the Asia region in
SAS: Zombie Assault 3
, and must be downloaded before playing.
Layout
The map is wide open with a large courtyard and two opposite paths along with four separate rooms where the infected spawn. The courtyard is the easiest part to hold them off until big Burrowers are spotted.
Difficulty
High powered weapons, Power-ups and excellent Armor is needed since the amount of Devastators and Burrowers can kill unskilled players in seconds.
Ad blocker interference detected!
Wikia is a free-to-use site that makes money from advertising. We have a modified experience for viewers using ad blockers

Wikia is not accessible if you've made further modifications. Remove the custom ad blocker rule(s) and the page will load as expected.