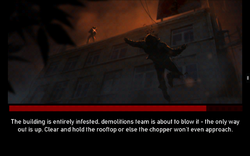 Skyscraper is the fifth and final map in the Asia region of SAS: Zombie Assault 3, available for download on mobile devices. Currently it's the last map to play in the entire game.
Layout
Skyscraper takes place on the roof of a skyscraper. Zombies spawn from multiple holes, with the building said to be "entirely infested." An overall square-shaped walkway makes up the bulk of the fairly-large area, which can be ran around outside of as well.
Ad blocker interference detected!
Wikia is a free-to-use site that makes money from advertising. We have a modified experience for viewers using ad blockers

Wikia is not accessible if you've made further modifications. Remove the custom ad blocker rule(s) and the page will load as expected.