SAS: Zombie Assault 4 Weapon
- ZombieSeekingMissileLauncher -
Have an image of the ZombieSeekingMissileLauncher's mobile version?
Then please upload it!
Damage/Pellet
12,000
Pierce
1
Blast Radius
1
Rate of Fire
1
Capacity
1
Reload Time
0.1 seconds
Movement
-1%
Firing Mode
Full-Auto
Weapon Class
Rocket Launcher
Damage Type

Physical

"Standard Zombie Missile Launcher - now with seeking capabilities"
―Official Description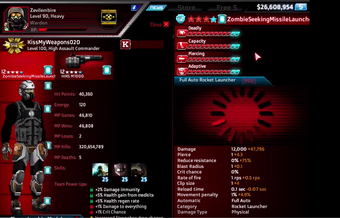 The ZombieSeekingMissileLauncher is a weapon that can be currently hacked in SAS: Zombie Assault 4, and is not available otherwise. It is the Savage Zombie Mech's missile launcher.
Like the template-DONTSPAWN armor piece, it doesn't have an image, resulting in a loading spinner where the image should be. It doesn't have an image for the top-down view (when the player is holding it during a mission) either, making it appear as if the player isn't holding anything. This weapon will be removed on refresh.
Trivia
This weapon will actually fire at 10 RPS without any buffs due to the 1 capacity and 0.1 sec reload overriding its flat rate of fire.
Prieviously, it was called this name, but it was changed and called zombiemachinegun.
There was a video about it, but it was taken down by the user.
Ad blocker interference detected!
Wikia is a free-to-use site that makes money from advertising. We have a modified experience for viewers using ad blockers

Wikia is not accessible if you've made further modifications. Remove the custom ad blocker rule(s) and the page will load as expected.